25 quick tips for boosting customer loyalty at your small business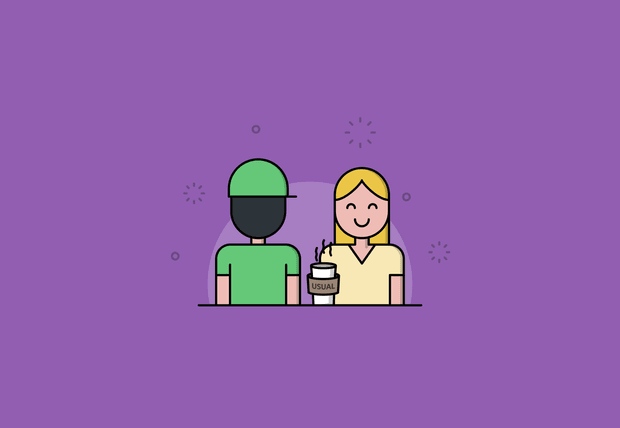 Customer loyalty can be difficult to win. But it's also easy to lose.
Even if you manage to convince a customer to cut ties with a big brand and use your business instead, remaining their first choice for months and years to come can be tricky.
With this in mind, today on the RotaCloud blog we'll be discussing customer loyalty, exploring how to inspire it, how your business can benefit from building a fan-base, and the obstacles you'll have to overcome in order to inspire that loyalty.
Why small brands struggle in the loyalty stakes
For customers, choosing the leading product or business over your brand is the easy choice. There's less risk, and the decision itself is easier to make. You know what you're getting with a leading brand.
And every time a customer makes that decision, it becomes even more likely they'll make that same choice next time around. This phenomenon is known as cumulative advantage.
Eventually, buying that brand becomes a habit — as long as nothing else changes, there's really no reason for the consumer to consider any other brand.
Smart marketing or a recommendation from a friend may prompt the customer to try out a different option, but in all likelihood, they'll head straight back to the comforting familiarity of a larger brand.
However, this type of 'loyalty' can still be lost through repeated negative experiences, such as poor customer service, worrying press coverage, an increase in price, or a noticeable fall in product quality.
Small brands face an uphill battle to gain customer loyalty, but that doesn't mean you shouldn't be striving for it.
Why customer loyalty is incredibly valuable
Think about the brands that you're loyal to. It could be a local cafe, an online fashion retailer, or maybe a car manufacturer — just think of brands that you'd almost always choose over the competition.
Now, ask yourself why you're loyal to those brands.
It might be due to the quality of their product, the fact that they're a locally based company, or because of some exceptional customer service you received.
You can easily justify why you'd choose these brands over others, and you'll probably make that decision again in the future, whether it's every week, month, year or five years. There's every chance you'll recommend the brand to friends and family, too.
Your loyalty gives these brands more business without them having to lift a finger. In fact, estimates suggest that it costs anywhere from 5–25 times more to acquire a customer than it does to retain one. Loyal, engaged customers spend more, too, and are less price sensitive.
Clearly, it pays big to inspire loyalty. But how do we go about doing that?
How to Build Customer Loyalty
Let's dive straight into some of the methods you can use to boost customer loyalty at your cafe, bar, or restaurant.
We've split these tips into four different categories to help you find ideas that could work for your business.
Branding
Redefine your values. If your brand values are fuzzy, outdated, or unclear, redefine them. This'll give you renewed focus that will provide the foundation to building loyalty.
Communicate your brand values. On your website, at your establishment, on every marketing correspondence, and everywhere else. There's no point having brand values if your customers aren't even aware of them!
Improve the visual consistency of your brand. In other words, make sure that your logo, typefaces and brand colours are used consistently. This helps consumers become attached to your brand and recognise it

easily

.
Keep your social media on-brand. Update your profiles so that everything reflects your brand, and use the same tone for messages, posts, social media ads, etc. Need help getting started? Download our free social media guide for business owners!
Build on 'club' and 'community' themes. By making your customers feel part of an exclusive club, you'll earn their loyalty. Think of those Mac vs. PC ads from a few years ago and how they deliberately made Mac users feel cool and that their purchasing decision was the right one.
Stay true to your brand. Whatever values you say your brand has, back up your words with actions.
Know your USP, and stick to it. Understand which elements of your brand and product set you apart, and communicate them with customers. Play to your strengths — don't try to compete on areas you struggle with.
Celebrate company milestones with customers. Hold events on company anniversaries and other milestones, or share posts on social media celebrating the achievements and thanking customers for their support.
Programmes & perks
Try loyalty cards. Basic stamp cards are cheap to manage and remain popular. Give customers a couple of extra stamps to start off with to increase the likelihood they'll come back for another stamp — a tactic known as artificial advancement.
Try out digital loyalty 'cards' through your point-of-sale system. Check to see if your current software provider offers any kind of loyalty programme function. Try it out and see how it changes customer behaviour.
Offer birthday freebies. Either by gathering date-of-birth data through a loyalty scheme, or simply by letting customers show their ID when they visit, try offering freebies or generous discounts on customers' birthdays.
Offer freebies or discounts with email newsletter subscriptions. Encourage email signups with carefully chosen, non-transferable perks.
Send out occasional offers or rewards via email. Reward your most engaged customers with unexpected discounts, sent via email.
Give your top customers the first chance to register for events. You could do this via email or social media. Events could include themed nights at the restaurant, community bake-offs at your cafe, or previews of new menus.
Give shout-outs on social media. When a customer is particularly delighted with their meal or has an exceptional experience at your cafe, ask if you could take a photo with them and share it on the company Instagram or Facebook page. Social-media savvy customers will be delighted to be featured like this!
When the @HarrogateFest team go for breakfast it has to be @Baltzersens
We also learnt a new word to describe us but it's too rude to put here....! pic.twitter.com/RUcTeJl16G

— Sharon Canavar (@sharoncanavar) April 13, 2018
Sharing your customers' complimentary social media posts is another great way to drum up business.
Customer Service
Always personalise the customer's experience. Whenever you can, adjust the guest's experience so that it feels tailor-made for them. Make a note of customer preferences so that you can offer an even more personalised service next time.
Aim to exceed expectations during every customer interaction. Go the extra mile for your customers whenever the opportunity arises. This provides customers with experiences worth talking about.
Give out handwritten, personalised thank-you notes. Tuck them into takeout bags at your cafe, or hand them over with the bill. Even a quick thank-you note will be hugely appreciated and form a personal connection between the customer and your business.
Prioritise employee retention. When customers see the same faces at your restaurant or cafe month after month, they'll not only appreciate the personal connection, but will determine that your establishment must be a great place to work. Employee retention often correlates with customer retention.
Trust, honesty, and experience
Aim for a consistent product and experience. Few customers enjoy change. When launching a new menu, be sure that some old favourites remain. Cafes should train baristas to prepare drinks in exactly the same way each time.
Hire knowledgeable staff (and/or train them). The more your employees know about your products, the better. Customers will be impressed if staff can answer their questions about things like the source of ingredients, or how a dish is prepared.
Balance upselling with more honest recommendations. Instead of always recommending dishes with the highest margins, consider customer preferences first when giving recommendations. If they're happy with your recommendation, they'll be more likely to return.
Publish tips, how-tos, and other helpful content online. Share recipes, information about suppliers, and other types of useful content on your blog, social media channels, and website. This gives your brand more authority.
Be honest, even when it's not in your immediate interest. If the competition can serve a customer's specific needs far better than you can, then tell the customer that. You might lose a customer in the short term, but you've gained the trust and goodwill of an individual (and any friends they relay the story to) in the long term.
Inform customers of remaining gift card balances. If you link gift card balances to email addresses or other contact details, send reminders if there's balance left on gift cards that are about to expire. Customers will appreciate the nudge. This'll cost you in the short term, but hugely benefit you in the long term.
Holding special events will help you establish authority. Plus, they're fun!
Obstacles to winning customer loyalty
Of course, even with all of these tips, tools and methods at your disposal, winning your customers' loyalty won't always be easy.
As with any aspect of your marketing, inspiring loyalty requires a lot of time and effort on your end, and there are a number of potential pitfalls to be aware of.
Cost
The cost of providing discounts, hosting promotional events, even setting up reward schemes can be difficult for some small businesses to bear. Do your sums before rolling out any kind of loyalty programme or starting out on a project that, though it might reward you in the long-term, could put you under financial strain.
Time
Going the extra mile with your customer service and loyalty schemes is great. But if you can't consistently provide the same level of service or incentives, then you risk making your customers suddenly feel less valued. Be consistent and make good on your promises — if you can't, then don't make those promises to begin with.
Technology
You don't need to be a tech wizard to send out the odd promotional email or host a special event for your most loyal clients to enjoy. But reaching new audiences and spreading the word about your brand online will require a degree of technical proficiency.
Things like social media management, content writing, and graphic & website design should never be muddled through. If you lack the skills to present your business well online, then you'll need to find someone who has them. That or consider using an agency...
Data protection
While we're on the subject of technology, don't forget that any data you collect about your customers — whether it's their name, email address, or shopping habits — needs to be kept secure and used responsibly.
This will be especially true once the GDPR comes into effect this May, which will make businesses owners more responsible than ever for the collection, storage and processing of customer data.
Stiff competition
And of course, you won't be the only one hoping to become your customers' first choice — your competitors, too, will be employing similar tactics in order to secure people's loyalty.
It's down to you to appeal to your customers in ways that your competitors cannot. Be creative and look for effective ways to connect with your audience — there's no point pouring time and money into Facebook and Twitter promotions, for example, if you know that your customers tend to shy away from social media.
Final Thoughts
Perhaps the most important thing to remember when talking about customer loyalty is that it is always earned, rather than simply given.
It's not enough to simply ask for your customers to habitually choose your business over your competitors' — you have to give them a reason to love you.
That doesn't mean that it should be your goal to win over every customer that enters your shop or visits your website, however. Establishing a loyal customer base can do wonderful things for your business, but every customer is different, and not every one will be a good fit for you. It's better instead to focus on those who you know will like your brand and for whom you can provide something special.
Stay true to your brand, values and mission statement, and focus on the audiences that mean the most to you. Not only will you find it easier to engage with them, but they'll be much more likely to appreciate the extra effort you put in.
Good luck!
Management advice & insights, straight to your inbox.
Enjoying the RotaCloud blog? Tell us your email address and we'll be in touch whenever we publish a new blog.
---
---