Alternative Christmas & New Year parties for remote-working staff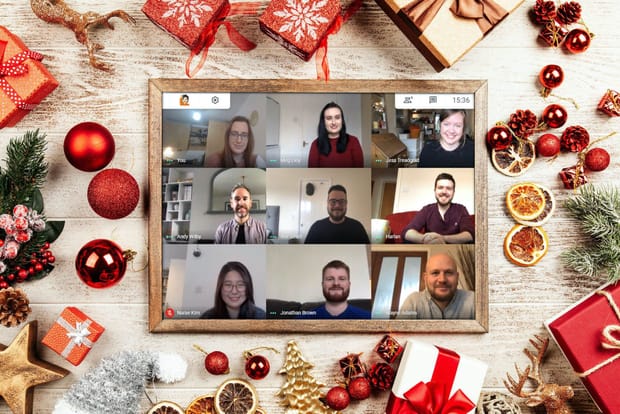 Let's face it: Christmas and end-of-year office parties just aren't happening this year. Sure, we're all sick of worrying about covid, and are definitely in need of a morale boost, but no manager worth their salt would risk packing their entire workforce into the same room in the name of Bublé and beer pong.
But the good news is, remote workers don't have to go without their festive fun this Christmas, because our very own office elves have come up with a whole host of ideas for virtual Christmas and New Year party activities.
Grab your Santa hats and your fluffy antlers; things are about to get festive.
---
Alternative Christmas party ideas for remote-working teams
Heads up: you'll need a reliable internet connection and access to a video conferencing app like Zoom, Meet, or Teams to enjoy these virtual events. After the year we've had, though, we're sure you're already more than familiar with how they work!
1. Get dinner delivered
It's not quite the same as booking a table at a restaurant for your company's Christmas bash, but partnering with a local eatery and organising for food and drinks to be delivered to your team at their homes will still go a long way.
If delivery isn't an option or would be too costly, then the easiest workaround is to collect your team's festive fodder in bulk from the restaurant yourself, then drop it off (socially distanced, of course) at each of your employees' homes on the day of your party. Instruct your staff to resist the food's charms until the agreed hour, then have everyone sign in to a Zoom, Google Meet, Teams, or Slack video chat.
Start the proceedings with a short pre-dinner toast given by you or one of your managers — ideally with a glass of something fizzy — and then dig in.
If sitting down to an entire meal seems like too much of a chore, then take a leaf out of our book and hold a simpler 'cheese and wine' night, where everyone on your team has a selection of tipples and easy-to-transport snacks to enjoy together via webcam.

Bonus points for: delivering some booze along with the food; preparing a festive playlist that can be accessed by everyone on your team and listened to (through headphones!) while you all tuck in.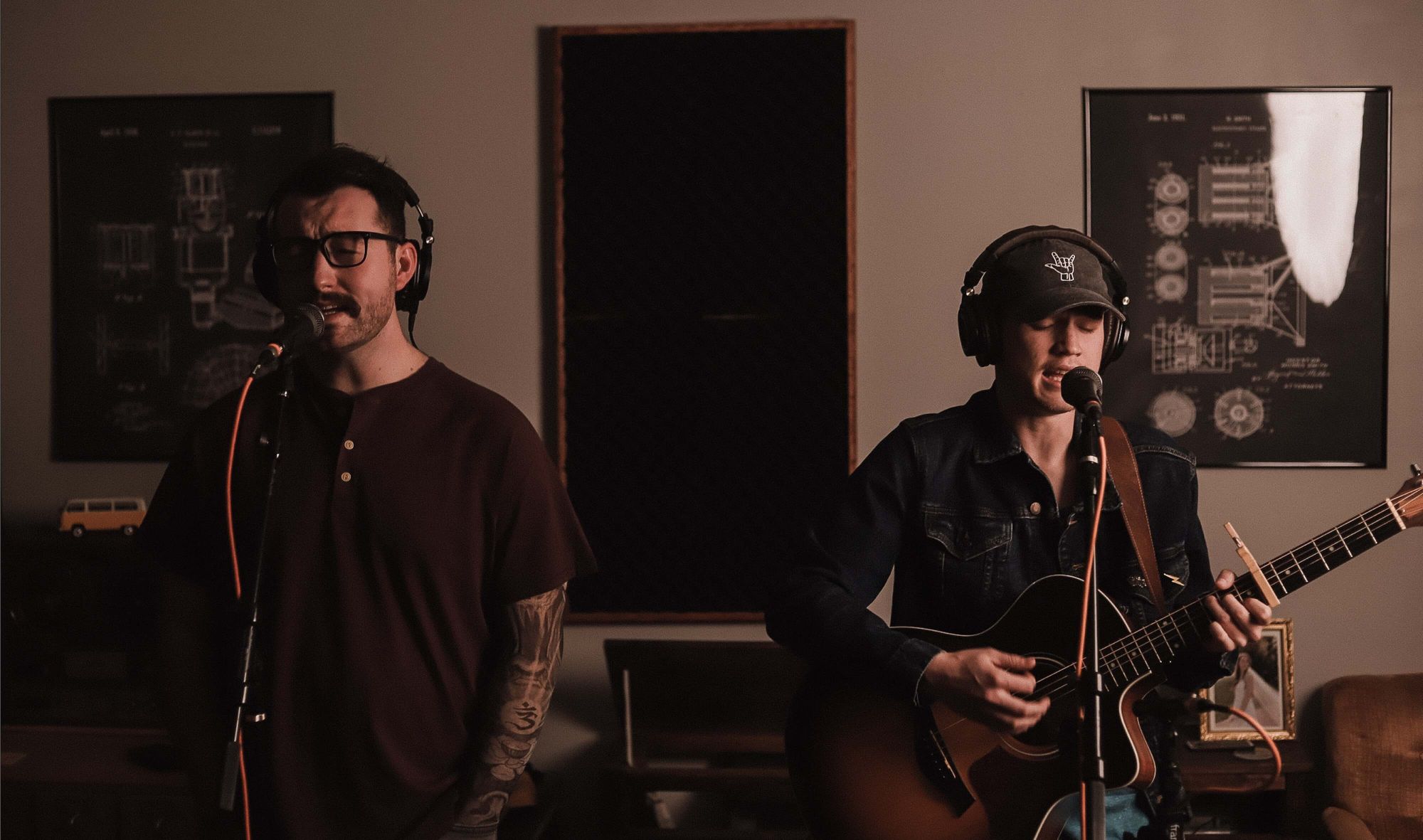 2. Hire some (online) entertainment
Why rely on each other to keep the party going when you can pay someone else to?

From stand-up comics, to magicians, to musicians, an increasing number of performers have been taking their acts online recently in order to reach audiences who, for obvious reasons, are no longer able to come and see them perform.
The exact kind of entertainment you choose will of course depend on your budget and the size of your team, but a quick Google search will net you plenty of results to explore. And don't overlook local talent, either — there are plenty of musicians and performers who, while they might not be signed or have specifically advertised themselves as being available to perform via web, would be more than happy to perform a cosy virtual show for your workforce.
Bonus points for: making it a surprise (imagine a musician or comedian dropping in on your Zoom chat 'unannounced') and working with your entertainer to personalise the show so that it involves some of your more outgoing staff.
3. Learn to mix cocktails
Why not make your Christmas party a little more interactive this year by giving your team the chance to learn how to mix cocktails?

Mixology classes can now be taken completely online, often with all of the tools and ingredients sent directly to your home, and instruction provided live via video call.
Here's an example of one such service and how it all works:
It might be better to split larger teams up into groups to make sure they're getting enough of the instructor's attention, and of course you'll want to ensure that the class you pay for has non-alcoholic and vegan options too, but this is sure to be a fun and memorable experience for your entire team — especially those who are sad about not being able to head out to a bar as part of their usual staff night out.
Bonus points for: inventing a new cocktail that will become your company's signature tipple. I wonder what the base ingredients of a cocktail called a 'Late Shift' would be...
4. Get gaming
If your team's made up competitive types, consider playing some online games together as part of your virtual Christmas gathering.
We have a long history of team gaming here at RotaCloud. It's fun, it helps us unwind, and best of all it can be done remotely with ease — perfect for teams who are either in lockdown or living in higher tier areas.
Top tips:
Choose games that cater to all skill-levels. Not everyone is a 'gamer', nor do they necessarily have their own gaming hardware or their own copies of games. Free-to-play web-based games like Among Us always go down well.
Choose games that can be played relatively quickly. No one wants to get stuck in an hour-long match. If the games you're playing finish too fast, then simply play another round.
If video games aren't really your team's thing, then either keep it old-school with a quiz — video conferencing platforms like Zoom allow you to put people into different 'rooms' which allows them to confer safely — or play some online board games that they'd be more familiar with. Tabletop Simulator has loads of old favourites to choose from.
Since some video games will have player caps, it's best to do your homework and have several different games running at once, ideally with some sort of schedule so that groups of players can move from one game to the next.

Bonus points for: turning it into a tournament or giving out prizes for the best or most entertaining players.
Staff scheduling, without the headaches
Build and share staff rotas anytime, anywhere — all in less time than it takes to a wrap a Christmas present.
5. Host a talent show
What better way to liven up a party than by inviting your teammates to show off their hidden talents?
Staff can choose to perform their talents live on a video call, or record themselves doing it and watch it back together by sharing their screens — it doesn't really matter, so long as you have a good group of volunteers and a few drinks to lubricate the proceedings. Singing, card tricks, impressions, dancing with your cat; it's all fair game at The Office Christmas Talent Show!
Bonus points for: awarding the best act or most surprising talent with a little trophy at the end — decided either by you or a team-wide vote. Speaking of awards...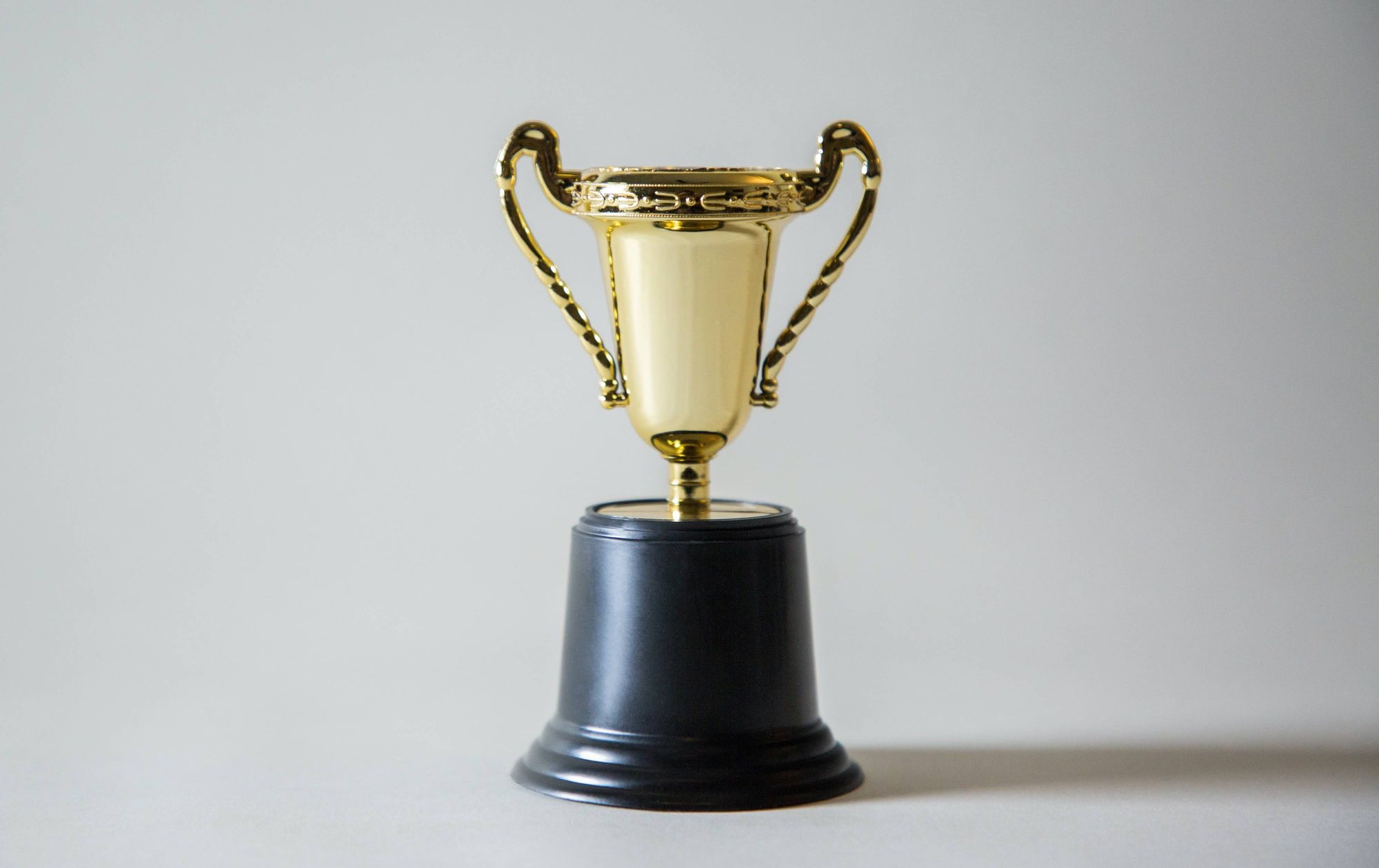 6. Host an online awards ceremony
Your online Christmas party doesn't have to be entirely festive-themed; you could turn it into an annual awards ceremony, a way of thanking your staff either for their work or just for being them.
Not only will this make people feel good, but it'll also ensure that your attendees stay engaged as they wait to find out what award is up next and what they'll be recognised for.
If you're feeling adventurous (and someone doesn't mind being the designated driver), you could even present each award in person, socially distanced of course, and stream the handover and accompanying acceptance speech live from your employee's doorstep right into the Zoom or Google Meet video call.

Bonus points for: getting your team to dress for the occasion. Think 'red carpet' rather than 'work night out', so tuxedos, tiaras, and tinsel (well, it is Christmas!).
7. Play Secret Santa
It's an oldie but a goodie, and Secret Santa works just as well when your team are unable to meet in person.
Well in advance of your agreed party date, set a spending limit and pick names from a hat (or use an online name picker) for everyone who wants to take part. Either have your team send their gifts to one another directly or designate an office 'Santa' (ideally the business' owner or a manager) whose job it is to collect and drop the gifts off at your team's homes on the day of your party.
Later that day, assemble your team in a video call, play some festive music, and take it in turns to unwrap your presents. Whether you can keep who gifted what a secret is entirely up to you!
Bonus points for: dressing as Santa for the gift drop-off, and documenting it via either photo or video to share with the whole team.
8. Play an online escape room
Escape rooms' popularity have grown massively over the last couple of years — at least, until covid-19 hit and forced us to stay in our homes. The good news, however, is that there is now a wide variety of online escape rooms and experiences to choose from, and they're perfect for groups of coworkers.

The principle is the same: participants must work as a team to pick up clues and solve logic-based puzzles within a time. This time, however, it's all conducted online via your web browser (and sometimes via incoming phone calls for additional immersion...), with teams competing to see who can escape the fastest.

Escape rooms' themes can vary wildly, from the whimsical to the downright scary, so you're  bound to find something to amuse your staff. Check out the Independent's list of the best online escape rooms if you're struggling to find one that fits.
Follow the event up with some online drinks, and you've got a night that will stick in your team's memory for many Christmases to come!
---
…Or just let people have their own 'parties'
At the end of the day, you'll know best if your employees will really enjoy a virtual Christmas bash. If, after you've explored the options, you've decided that none of the options presented above would quite work for your team, then lean into it — calculate what you would have spent on them individually and either send each of your staff a gift of equal value or pop a nice little Christmas bonus in their paycheque instead.
Just be sure to send a card or a video message so as not to be completely devoid of the festive spirit!
Merry Christmas, everyone! Here's to a much more sociable 2021!
---
How will your team be celebrating the end of 2020? Share your own ideas with us by leaving a comment below.
Management advice & insights, straight to your inbox.
Enjoying the RotaCloud blog? Tell us your email address and we'll be in touch whenever we publish a new blog.
---
---